Writing a business plan is the first step to start your own business. There's a lot of things to think about when starting brand new and it can be quite overwhelming. But you don't need an advanced business plan and it doesn't need to be difficult to write one. All you need is a one page overview of your business. A one-page plan can serve as a starting point for fine-tuning ideas and you can create an in-depth business plan later on.
Clarifying your business' mission and goals into one page forces you to set priorities. This can help you make smarter decisions and be more efficient.
But what do you include in the plan and how do you get started? Just follow these steps and you're on your way to creating a plan that will help you crush your business goals.
Summary
The summary provides a brief introduction to your business and what you hope to achieve. Remember the reasons you started your business. Describe the services or products you offer and share your value propositions.
Focus on explaining your vision and what makes your operation unique, whether it's your commitment to 24/7 customer service or local product manufacturing.
Market analysis
The market analysis demonstrates the industry you're in and customers you're trying to reach.
Start by identifying and describing your target market. Use brief sentences or bullet points and take into account factors like age, occupation, interests, issues, buying habits. Explain how you'll position your products or services to appeal to these potential customers.
Marketing and sales strategy
Your summary should explain in broad terms how you plan to promote your business and convince customers to act.
Consider giving an overview of your sales funnel here, listing key details and distribution channels for each step – from awareness to action. Make sure you include a sentence or two that clarifies why you chose the particular marketing methods you listed.
Pricing and profit strategy
Demonstrate your business' profit potential. You need to create a pricing strategy and explain how you choose to set your prices. Include a 6-month sales forecast and a projected cash flow.
Create a 90-day goal plan
List your most important goals by mapping out your year. Think of your business plan as a pyramid. Your mission statement is at the base of the pyramid while your big goal is at the peak. Everything in between is a step you need to take that will get you to the top of the pyramid. These steps are part of your plan.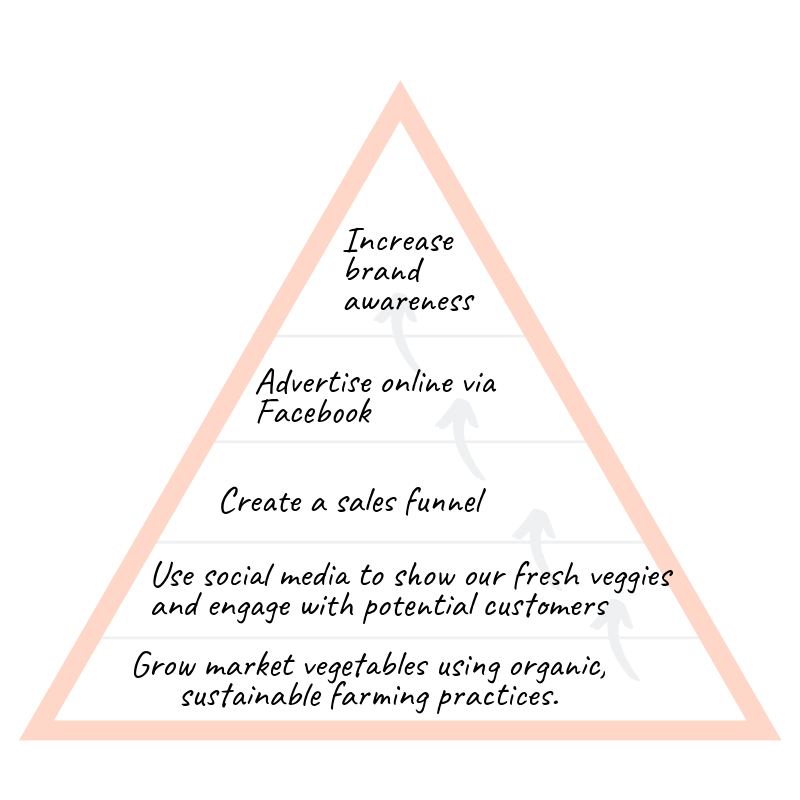 For each goal, include a sentence or two that explains what steps you'll take to carry it out, how you'll measure your progress, and how you'll overcome problems that occur.
Break your goals into smaller, actionable steps that can be completed in the next three months. Consecutive 90-day plans will create a pathway to the top of the pyramid – your big goal.
90 days is short enough that you don't lose focus but long enough that you can make significant progress toward goals.
Keep updating your one page business plan
Decide how you will measure success and then to set up a system for tracking your progress. Aim to keep revising and updating your plan as your strategies, budget, and priorities change accordingly to your results.
Grab your free biz planning template below and you'll be on your way to a solid strategic business plan in no time.