Let Me Teach You How To Fast Track Your E-Commerce Business & Skip The Hardest Part To Get Visible Online!
Forget about spending hours and hours figuring out how to DIY an eCommerce business. You're here to make money right?! Then let's get to it instead of wasting time!
And you're protected by my 100% refund guarantee!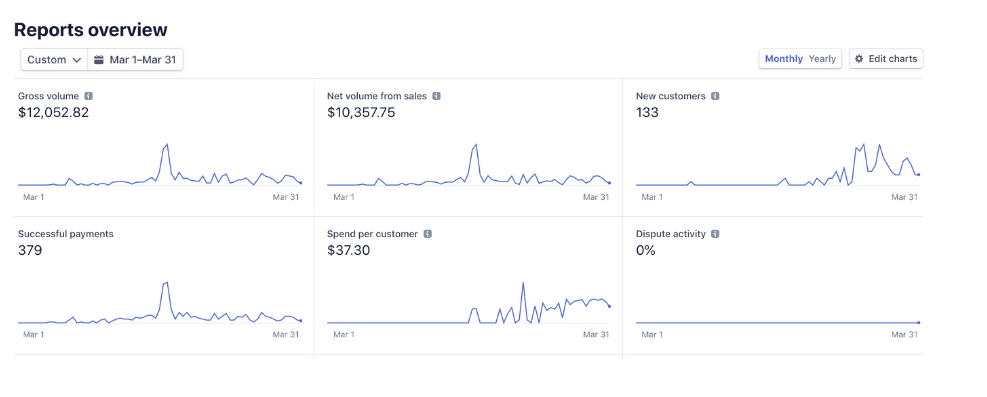 Actual results from my eCommerce store in March 2021.
…PASSIONATE about your biz.
Whether you're new to eCommerce or have been in business for a year or two,  you probably are here today because you're on a mission to build a life you love.
…STRUGGLING to get noticed.
You're having trouble promoting yourself, STANDING OUT in your market, and attracting the right clients. You're second-guessing yourself, worrying you're not "cut out" for business.
…READY for a massive shift.
You're ready for a real eCommerce strategy, support, and guidance on how to tap into the market so can grow your business and profit from it!
…so, how can I support you?
Hi, I'm Sam!
I started my first eCom biz in 2006!
Ever since I had 6 eCommerce stores in different industries WHILE working as a digital marketing manager for 7-figure brands and businesses.
I now run my own online education and consulting business, where my mission is to simplify the path for startups and small business owners as they start, grow, and scale their own business.
If you're looking for more clarity, a step-by-step action plan, accountability, and some honest feedback, click below to start the journey of eCommerce!
EVERYTHING I DO COMES FROM A PLACE OF…
heart
I genuinely care about the people I help and want to see you succeed in your business. I won't always tell you what you want to hear, but every word I say comes from a place of love.
transparency
You can always expect honest feedback and coaching for you and ONLY you. There is absolutely no BS or cookie-cutter material in this space. 
strategy
I know what works and what doesn't, and will walk you through every actionable step to get exactly where you want to go.
Whether you're just starting or are in the first or second year of your business…
THIS IS FOR YOU IF YOU WANT TO…
Learn how to create a strong business foundation for a long-lasting business
Figure out how to pick profitable products and how to find suppliers
Learn dropshipping or wholesale business models
Set up a store in WordPress with WooCommerce
Master marketing and social media for eCommerce
Get a clear direction of how to get started
Get a strategic roadmap to make customers love your brand
gain some confidence that YOU CAN DO THIS with my mindset training
get support and mentoring while you build and grow your brand
Get tons of eCommerce resources (templates, scripts, planners) to save yourself time
Here's Your Chance To Build A Profitable Online Store In 12 Weeks!
If you follow my program, I can guarantee you will see results within the 12 weeks we're working together.
That means, the program will either pay for itself or you're getting your money back!
Customized program + 1:1 Coaching
1:1 BREAKTHROUGH SESSION | 90-min. session that we use to identify all areas of your current business or business idea + how we can incorporate your unique story to create a new roadmap.
CUSTOMIZED PLAN FOR YOUR BUSINESS I give you a program schedule where you will need to implement strategies each week.
1-HOUR WEEKLY STRATEGY CALLS held via Zoom every week for 12-weeks.
EXCLUSIVE MATERIALS just for my 1:1 coaching clients, including video lessons, templates, + worksheets.
UNLIMITED FEEDBACK on all new offers, marketing materials, and everything else you're working on in our time together.
12-Week Program + Coaching
Or $3300 in 3 Monthly Payments of $1100 USD
ABOUT THE APPLICATION PROCESS
All potential clients must apply by filling out a questionnaire and booking an initial Discovery Call so we can determine if we are the right fit. You are in no way financially obligated to anything by filling out an application and booking a clarity call with me. All applicants must complete this step before contracts are signed and payment is made.